Deskripsi Produk
Scaffolding Walk Boards Machine dijual Selama proses pembengkokan dingin, lembaran logam secara bertahap membentuk ke bentuk akhir, dan ketika bahan melewati pabrik, harga mesin Scaffolding dibentuk oleh roller berputar. Tujuan dari desain roll adalah untuk membentuk produk yang diinginkan dalam toleransi yang diberikan dengan jumlah langkah pembentuk minimum, jumlah minimum berlalu. Keuntungan dari mesin papan berjalan Scaffolding: dapat menghasilkan berbagai profil ultra-tipis, ultra-lebar dan kompleks yang tidak dapat diproduksi dengan rolling; Mesin roll forming scaffolding dapat menghemat bahan logam dan memiliki sifat mekanik yang baik. Metode pemrosesan yang umum digunakan adalah menggulung, membengkokkan, membengkokkan dan membengkokkan.
Produk utama kami meliputi mesin C purlin, mesin Z purlin, mesin CZ purlin, Rak Penyimpanan Roll Roll Forming Machine , Mesin Roll Forming Kabel Tray , Mesin Roll Forming Purlin , Mesin Pembuat Pipa Dilas , Jalan Raya Pagar Pembatas Roll Forming Machines , Logam Memperluas Jalur Produksi Mesh, Mesin Scaffolding Walk Board dan seterusnya, kami dapat menyesuaikan mesin sesuai dengan kebutuhan pelanggan, saya f Anda memiliki pertanyaan lebih lanjut dari Roll Forming Machine kami , silakan fe el bebas untuk menipu saya.

1. Bagan alur Proses

Manual de-coiler --- Servo Feeding --- P ---- oll Forming Machine ------ Kabinet Kontrol Komputer --- Mekanisme pemotongan otomatis --- Tabel Run-out
2. Spesifikasi dan detail teknis
(1) Hidrolik Ue-coiler
Un-power: manual de-coiler; Max. Kapasitas: 5T
Cocok untuk diameter dalam kumparan: 508mm, cocok kumparan Max. keluar diameter: 1000mm
Kekuatan manual memperluas permukaan kumparan bagian dalam.
(2) Roll membentuk mesin
Description

Product Name

Automatic scaffolding welding machine hot sale

Machine Size

15000mm*1600mm*1800mm

Machine Weight

About 20 T

Frame Materials

350H steel

Forming Shaft

Diameter

80mm

Material

45# quenched and tempered material

Forming roller

45# Forging Hard Chrome Plating

Cutting System

Hydraulic Cutting

Main Engine power

22 KW with cycloidal reducer

Forming Rows

15 rows

Forming Speed

8-12m/min

Pressing Thickness

1-3mm

Pump Station Motor

15 KW

Coder

Wuxi "rip" or "Xin Ya"

Switch

" CHINT "or" delixi"
Peralatan untuk Referensi: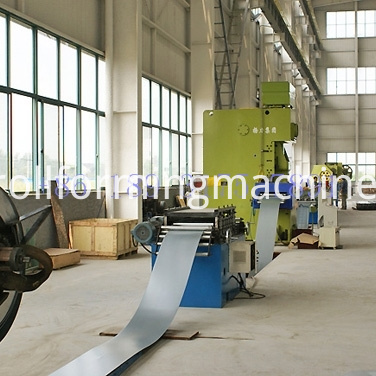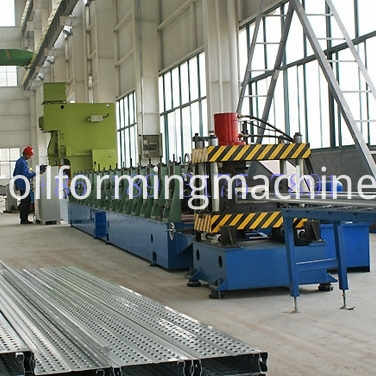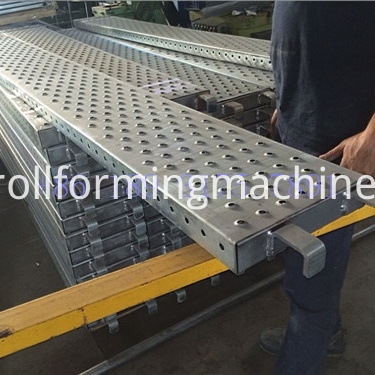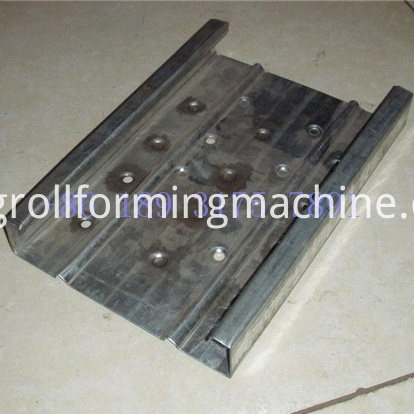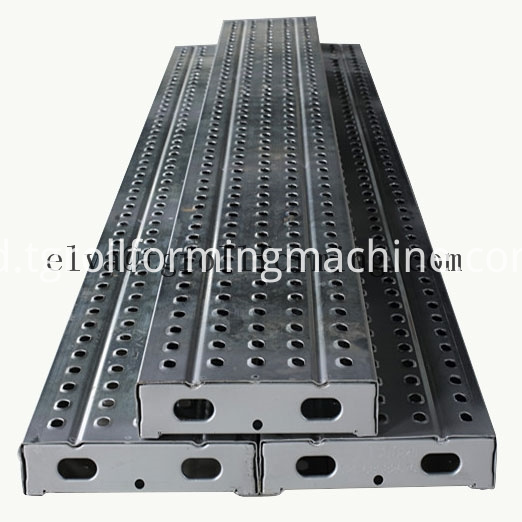 3. Ketentuan pembayaran dan layanan purna jual:
1) FOB Tianjin
2) Pembayaran: 30% T / T deposit, dan membayar saldo sebelum pengiriman.
3) Waktu pengiriman: 60 hari kerja.
4) Masa garansi: Garansi terbatas 12 bulan mulai dari tanggal pengiriman. Biaya pengiriman untuk suku cadang yang akan diganti selama masa garansi harus ditanggung oleh pelanggan.
5) Instalasi dan pelatihan:
1. Jika pembeli mengunjungi pabrik kami dan memeriksa mesin, kami akan mengajarkan Anda cara menginstal dan kami mesin, dan juga melatih pekerja / teknisi Anda tatap muka.
2. Tanpa mengunjungi, kami akan mengirimkan Anda panduan pengguna atau vdeo untuk mengajarkan Anda untuk menginstal dan mengoperasikan.
3. BIAYA INSTALASI :
Pembeli harus membayar biaya pemasangan (USD 80 satu orang satu hari). Ke akun penjual yang ditunjuk oleh T / T sebelum teknisi penjual pergi ke pabrik pembeli. Pembeli membayar biaya perjalanan teknisi penjual di luar China, termasuk biaya tiket pesawat, akomodasi dan makanan, menyediakan transportasi dari hotel yang tinggal ke tempat kerja, komunikasi yang diperlukan, dan asuransi, dll.
Saya f Anda memiliki pertanyaan lebih lanjut tentang Peralatan kami , jangan ragu untuk menghubungi saya, terima kasih!
Kategori Produk : Mesin Scaffolding Walk Board